Avaya Support Web Tips and Troubleshooting: Parts Replacement
| | | |
| --- | --- | --- |
| Doc ID: | | PRCS100597 |
| Version: | | 11.0 |
| Status: | | Published |
| Published date: | | 01 Dec 2015 |
| Updated: | | 03 Nov 2017 |
Abstract
Web–based parts fulfillment from Avaya
Simple, fast and user friendly
Having access to manufacturer-supplied parts and manufacturer support, whether directly or through an Avaya authorized partner, is critical to maintaining the value and extending the life of your Avaya solution. No wonder Avaya clients increasingly recognize the importance of manufacturer-supplied parts. Parts supplied by unauthorized sources may have been altered or may be outdated, and Avaya provides no manufacturer's warranty or support for parts supplied by unauthorized sources. New refinements to Avaya Web-based parts fulfillment have made it easier than ever to take advantage of the benefits of manufacturer-supplied parts. The enhancements include:
Improved user interface

with the same standard interface used elsewhere on the Avaya Support Website.

Enhanced real-time status

once you placed an order and the order status changes so you'll know about it quickly.

Provisioning DOA parts reordering

is fast and hassle-free. (Click here for details)

Streamlined parts replacement investigation

enables you to request Avaya investigate the entitlement for a parts replacement.

(Click here for details)

Broader parts ordering availability

will have more material codes available through the Avaya Support Website parts order process.

Explore Accounts

will have fast, flexible access to the information you need.

(Click here for details)
Body
There are several ways you can submit a request for a parts replacement on the https://support.avaya.com website. This article will cover the following:
The "Service/Parts Requests – Support Agreement/Registered Parts Replacement" dialog located at the top of most screens.

The "Service/Parts Requests – Heritage Nortel Voice RMA" regional processes.

If your asset for parts replacement is not listed, use the Parts Investigation request.

The Lifetime Warranty Process for specified products like the ERS Stackables
Registered Parts Replacement
The "Service/Parts Requests – Support Agreement/Registered Parts Replacement" dialog located at the top of most screens is to be used for any part that is:
Listed on a Sold To you have Access Control over (on your SSO Profiled)

The part must be listed on the Sold To you've identified

The part must be covered under a parts replacement agreement (as reflected on our records in Siebel) or be part of the "Minor Material" list.

The part must be considered "mailable", that is Avaya can ship it, and it is replaceable in the field.

A "mailable" part is a part identified by the Avaya Product House as being acceptable to ship to a customer without an Avaya Associate reviewing the request

For Hardware Repair & Return for Classic Avaya Mailable Parts, Heritage Nortel Data including the AS5300. Your part must NOT be a heritage Nortel Voice product.
You can find the "Service / Parts Requests– Support Agreement/Registered Parts Replacement" dialog located at the top of most screens:

You can also access it through the "What would you like to do" from the Create Service Request option: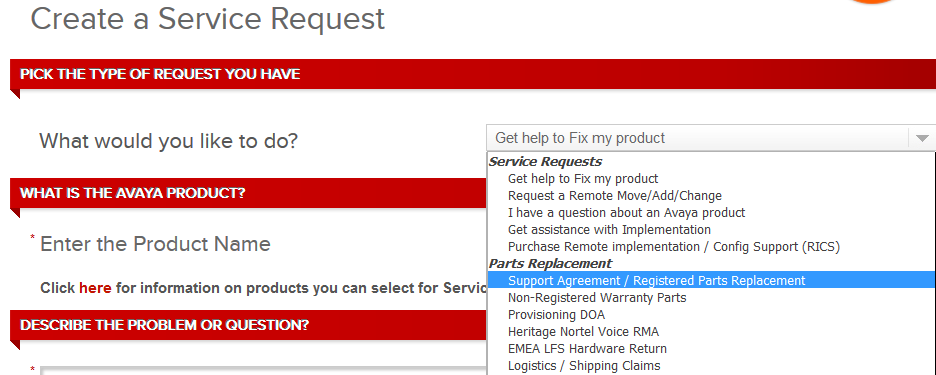 When you select "Support Agreement / Registered Parts Replacement" you will be prompted to choose what Starting Point you would like to use to find your parts. You can do your initial search using your Sold To information, a Serial Number, an SEID, an Asset Number, a Part Number or a Part Description (such as "Ethernet").
Choose which starting point you want to use: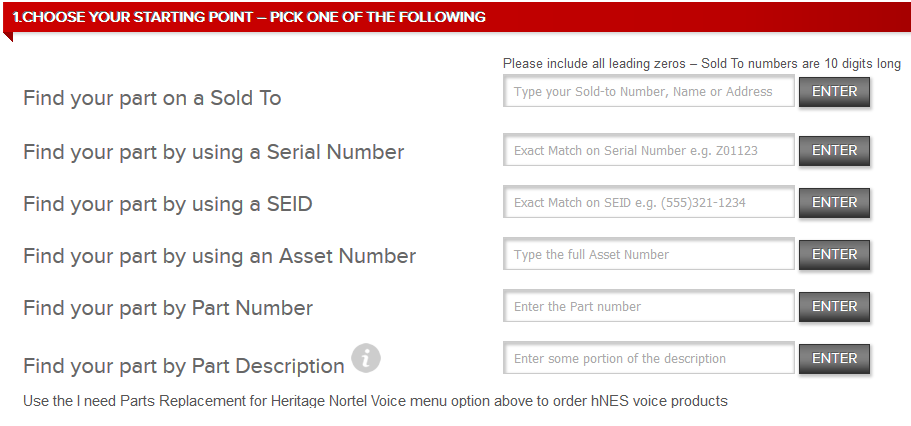 For Sold To, you will either be prompted to enter it in a box (as shown below) or pick it from a drop down menu, depending upon how many Sold To's you have.
If you are prompted to enter, you must enter your Sold-To number with the leading zeros, or enter part of the Sold-To Name or Address to presented with a pick-list
The resulting list of Assets will be very similar to what you see when creating a Regular Service Request.
If you have small number of parts they will be listed on the results page.

If you have a large number of parts, they will be grouped by Product Family for easy of searching.
Once you are on the page listing the asset, go to "Select Quantity" for the part you are looking for and choose the number you need from the drop down list. You are limited to choosing a quantity of 10 for an individual part on one order.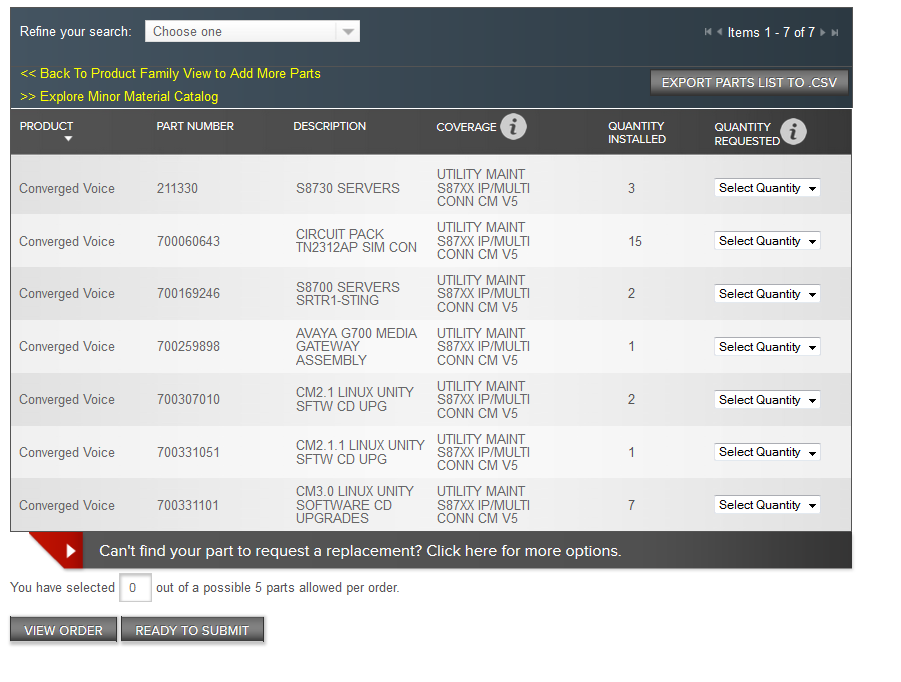 You can add additional parts from the same Sold To onto your order, or you can add additional Minor Materials. You can order up to 5 different items on the same Parts Replacement Order.
To add additional parts or Minor Materials, select the link you need: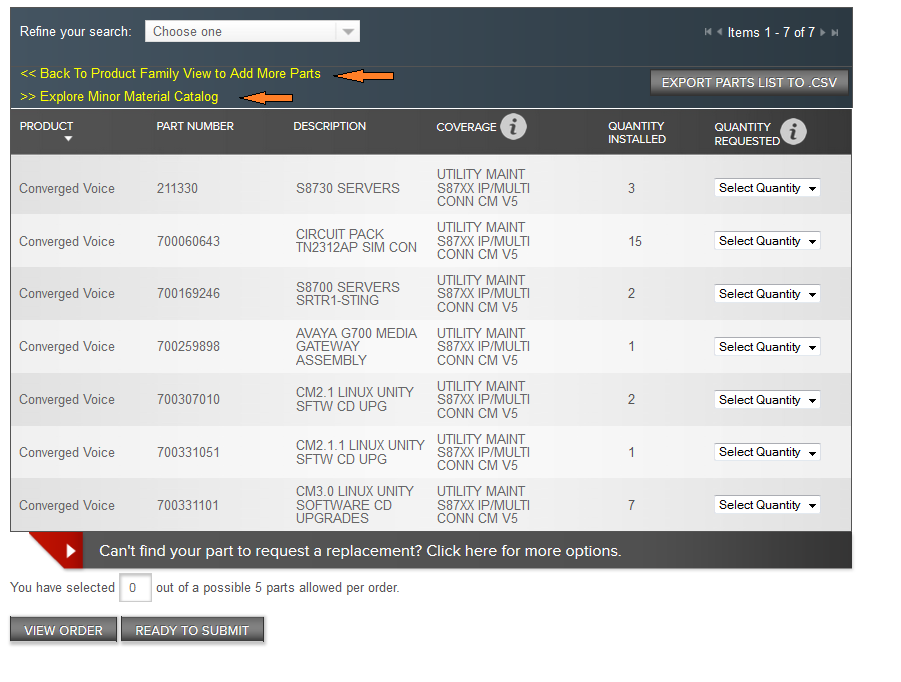 When searching for additional parts, you can refine your search within that Sold To to help find what you are looking for:

If you want to check what you have in your cart to order, choose "View Order"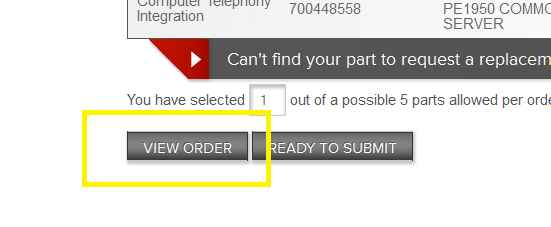 Once in that order form, you can change the quantity of the parts you have selected, or remove one or more items from your cart. Then you can update your order, continue or cancel the order.

When you are ready to submit your order, click this button: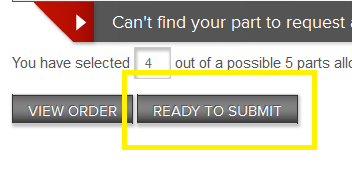 From here, you will be taken to a form where you must enter a serial number, choose a Field Failure reason, and enter a description of the parts failure. You can also enter an alphanumeric Vendor Tracking number, if you like, to help you keep track of your order.


Please choose a business severity from the list.
You then need to verify your shipping information. If you have multiple addresses associated with your Sold To, you can select which one to use by clicking on "Select Alternate Address" and choosing from the list.

Make sure you have the correct "ship to" contact person chosen. The information will default to your name, phone number and email as the person who opened the ticket. However, you can type over that information to add a new ship to contact, if need be.
When you have completed this information, press "Submit" to submit the Parts Replacement order.

You will receive a confirmation page with your Service Request number, and order information. You can also add any attachments necessary by choosing "Add Attachments" on this confirmation page.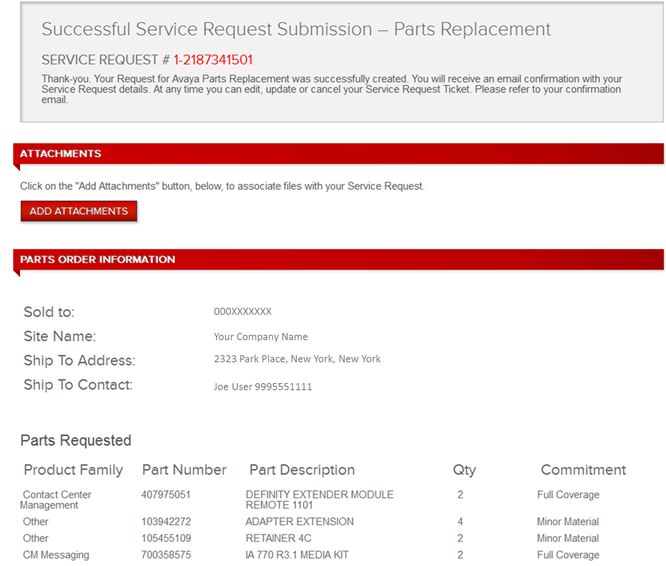 You can check the status of your Service Request on Your Dashboard, or on your Service Request page.
2. Parts Replacement for Heritage Nortel Voice Equipment
Through the "Services / Parts Requests – Heritage Nortel Voice RMA" regional processes. Details on the process can be obtained here
The option is also available from the Service Request What would you like to do? List of actions

Follow your regional process as indicated on the link.
3. Parts Investigation Request Interface
If your part is not listed on the Parts Replacement interface then it means that it is not deemed "mailable" by the Avaya Product House, or we do not have the Parts Replacement Entitlement active against the part.
You may still if you believe you are entitled to replacing a part, you can open a Parts Investigation Request
Start with the Parts Replacement
Select the sold-to you believe the entitled part should be installed at
Under the parts list that is generated, you will find the Can't find your part to request a replacement? Click here for more options, which is the gateway to the Parts Investigation.

Select the hyper link
A Parts Investigation form will display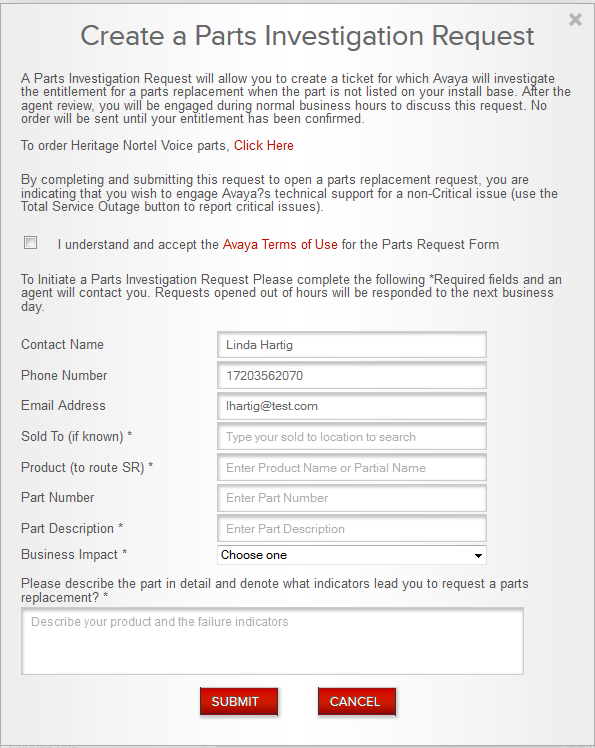 Complete the fields as indicated
A Parts Investigation Request will allow you to create a ticket for which Avaya will investigate the entitlement for a parts replacement when the part is not listed on your install base. After the agent review, you will be engaged during normal business hours to discuss this request.
No order will be sent until your entitlement has been confirmed
4. Lifetime Warranty
Parts covered under life-time warranty may not appear on your Sold To. Please follow the standard procedure to get support on a product covered by lifetime warranty:
Additional Relevant Phrases
web search
Avaya -- Proprietary. Use pursuant to the terms of your signed agreement or Avaya policy