Web Tips and Troubleshooting: Exploring your Sold-to's Account Information
| | | |
| --- | --- | --- |
| Doc ID: | | PRCS100612 |
| Version: | | 8.0 |
| Status: | | Published |
| Published date: | | 27 Mar 2014 |
| Updated: | | 26 Feb 2019 |
Abstract
Exploring your Sold-to's Account Information
The old method of exploring accounts, entitlements and contacts through Account Information has changed! We've gone from browsing on line to the ability to download the data and introduced some additional functionality
This article will provide you an overview of the functionality
Body
Accessing your Account Information
To access the Account information, log into https://support.avaya.com and select My Information -> Explore Accounts/Sold Tos:

This will bring up the Explore Accounts page, which will allow you to view and download information on a particular sold-to.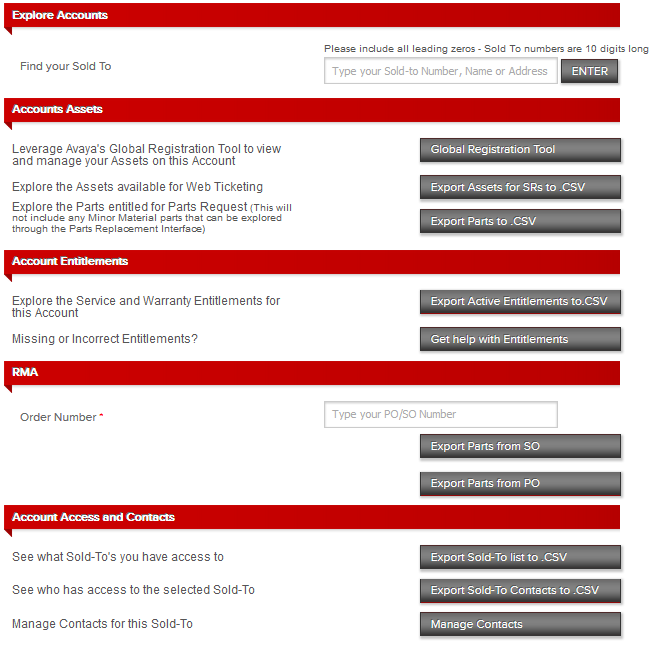 Account Assets
The Account Asset section provides you the links to the asset management and asset list down-load capabilities available on other parts of the web.
We've provided you a link to the Global Registration Tool where all your equipment registration and removal should be performed
During SR Creation or Parts Replacement, you are offered a list of assets that are available for each of these scenarios. You can also pull this asset data from here using the Export Assets for SRs to .CSV and Export Parts to .CSV button
Account Entitlements
With Export Active Entitlements to .CSV you'll be able to see the Support and Service Contracts applied to your sold-to.
There is also a button to Get Help with Entitlements.
RMA
You will be able to export parts from your Avaya Sales Order (SO) or Purchase Order (PO)
Account Access and Contacts
We've added the link that shows you what sold-to's your SSO login has access to. Use the Export Sold-To list to .CSV to view your sold-to access list.
We've also added the Export Sold-To Contacts to .CSV so you can see all the contacts that are listed on your sold-to in our CRM ticketing system.
Contacts are added to a sold-to three ways:
Through the standard SSO profile management
When an end-customer is linked to a partner link id
When a support agent adds a contact to the Sold-to in our CRM system.
Standard Avaya Access Profile management must be used to manage the SSO login's that have access to your sold-to.
Delegated Sold-to Administration processes must be moved to adjust partner contacts against your sold-to.
To Manage the Contacts on a sold-to, use the Manage Contacts button.
Attachments for the Account
No changes have been made to this functionality. You can use the Add an Attachment to the Account. You may want to do this for specific configuration, access, … information that you want Avaya to have. Bear in mind, most of your transactional data should be attached to the Service Request, and not the asset.
Avaya -- Proprietary. Use pursuant to the terms of your signed agreement or Avaya policy