Web Tips and Troubleshooting: Using a Parts Investigation Request when a Part not Listed for Replacement
| | | |
| --- | --- | --- |
| Doc ID: | | PRCS100727 |
| Version: | | 2.0 |
| Status: | | Published |
| Published date: | | 28 Nov 2014 |
| Updated: | | 28 Nov 2014 |
Abstract
A "part" is an install-base record where Avaya has determined you can request the replacement as a drop-shipment. No Service Associate has to approve this ticket, as the systems will automatically process the request. Not all parts are eligible to be put through this process.
A part is eligible for replacement if it is:
Named on your install-base for the sold to selected or is in the "Minor Material" catalog

Has a specific parts-replacement entitlement against it.
To understand more about entitlement, refer to the following knowledge article: PRCS100702

You can see the parts you have entitled for replacement by using the Explore Accounts button on your support.avaya.com dashboard or through the Global Registration tool at https://support.avaya.com/grt.
You should also validate your contract to ensure that all non-billable equipment has been properly listed on the contract if required.
Minor Material parts are parts that do not have to be listed on your install-base or contract to be eligible for replacement. You just have to select a sold-to that has a parts entitlement to request one of these parts. Examples would be curly cords, slot covers, …
If your part is not eligible for replacement, or you believe you are missing a part or entitlement, you can use the Parts Investigation Request
Body
Parts Investigation Request
When trying to request a part, where you have concluded that the part is not in the "Minor Material" catalog and is not listed on your sold-to as eligible for replacement, you can create a Parts Investigation Request.
A Parts Investigation Request will allow you to create a ticket for which Avaya will investigate the entitlement for a parts replacement when the part is not listed on your install base. After the agent review, you will be engaged during normal business hours to discuss this request. No order will be sent until your entitlement has been confirmed.
Select the "Can't find your part to request a replacement? Click here for more options" link at the bottom of the parts list you have after selecting a Sold-to from the "Parts Replacement" request.

This will pop up a the Create a Parts Investigation Request form: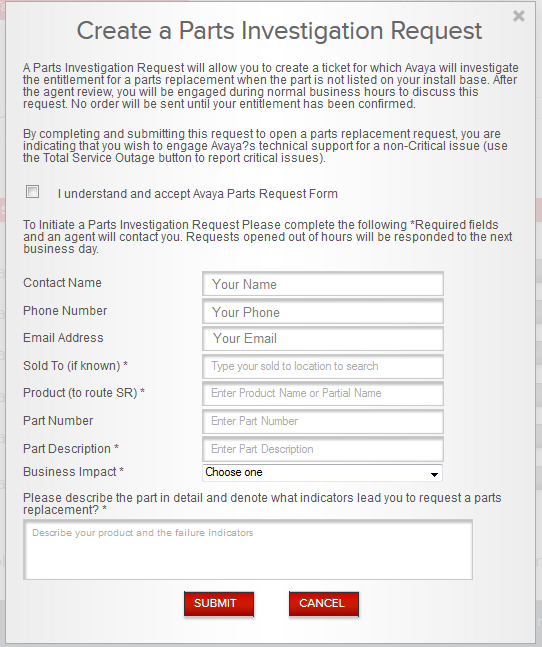 Fill out the form's required fields
Your SSO credentials will be auto-filled

Enter the Sold-to that you expected the part to be on

Enter the product from the product catalog.. this will help Avaya route the ticket to the proper support team.

NOTE. The Product Catalog doesn't use acronymns.

So CS1K, for example, can only be found by typing "1000" or Communication Server 1000

Enter the Part Number if known

You must enter a description of the part

Enter the Business Impact which will determine the severity of your ticket

Describe the product, the part you want replaced and the reason you believe it is defective.

You'll have to accept the Terms of Use check box for the Parts inquiry form before you can hit submit.

When you hit submit, a ticket will be created and routed based on the product you selected from the product catalog.
This ticket, if opened after hours, will be addressed the next business day.
If you are in an outage situation, you should go to https://support.avaya.com to Report a Service Outage using the big orange button.
· Once the Avaya Service Associate reviews the ticket they will engage you to let you know if your request can be processed or not.
Avaya -- Proprietary. Use pursuant to the terms of your signed agreement or Avaya policy