Avaya Support Web Tips and Troubleshooting: Updates and Enhancements for Service Request Creation and Manage Service Requests
| | | |
| --- | --- | --- |
| Doc ID: | | PRCS100824 |
| Version: | | 6.0 |
| Status: | | Published |
| Published date: | | 20 Oct 2015 |
| Updated: | | 25 Nov 2015 |
Abstract

The Avaya Support Website https://support.avaya.com has been updated to improve and ease the experience for our Avaya Partners and Customers when finding solutions to their issues before opening a Service Request and to help users find their assets within a Product, and also to manage the Service Requests that users have access to.
Body

Create Service Request Updates



When a user chooses Create Service Request and then selects - I need to fix my product OR I have a question about an Avaya product - they will first pick the product with the issue or question and describe their problem so they are presented with potential product specific solutions up front. The goal is to have the user be able to find a solution and fix their issue quickly without having to open a Service Request.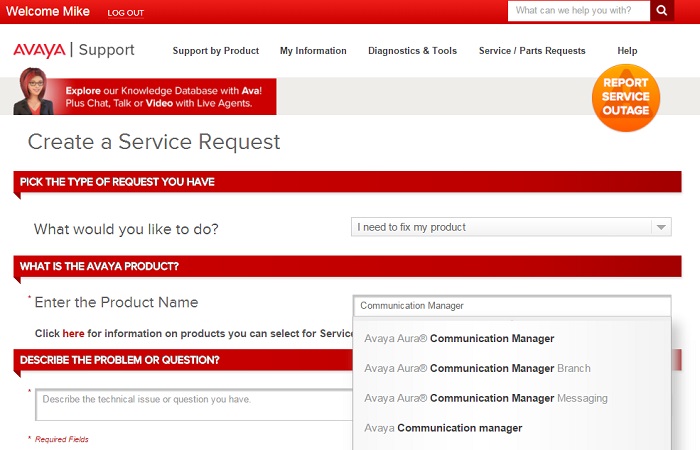 Users can go to Explore Accounts / Sold To's under the My Information heading to see a list of assets and associated products that are available for their administered Sold To accounts for Service Request creation. After entering the Sold To account number, select Export Assets for SRs to .CSV. Additional information about this functionality can be found at this link - Avaya Support Web Tips and Troubleshooting: How to determine which product to select to create a Service Request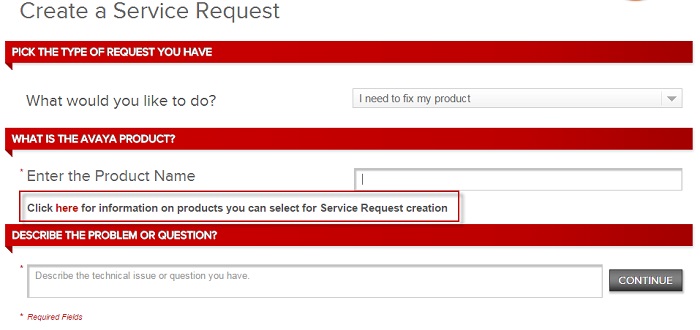 After seeing the suggested solutions, the user can indicate that they found a solution, view additional solutions, or they can move forward and create a Service Request: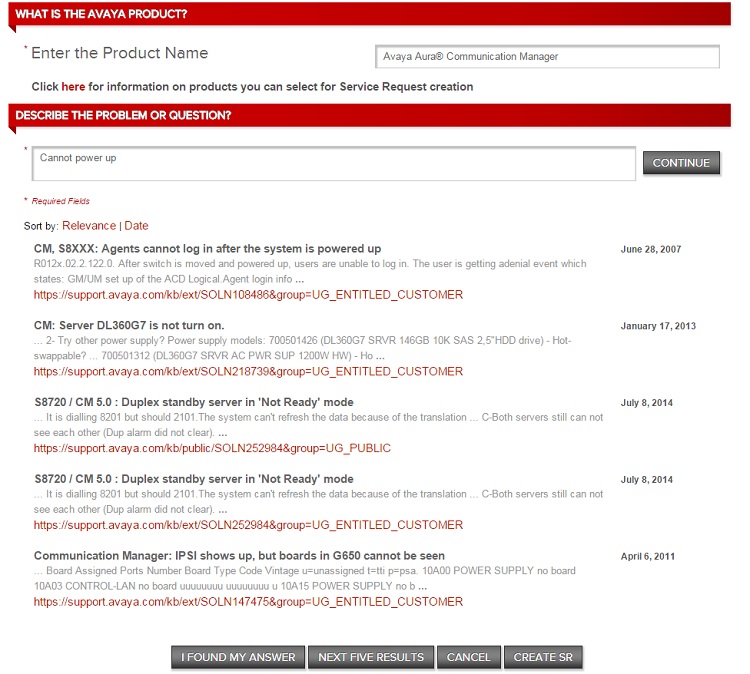 As before, Avaya Partners and Customers can search for their asset using a Sold To, Serial Number, SEID, Asset Nickname, or Legacy ID. For users with more than 20 Sold To's, to improve search speed, the auto-completion on Sold To numbers has been changed from 2 to 5 characters. You can search using any of Sold To number, name or address for accounts you have access to.

The assets displayed will belong to the product that was chosen, so users do not need to search through all of their assets for the one they want. Users can then open a Service Request as they have in the past.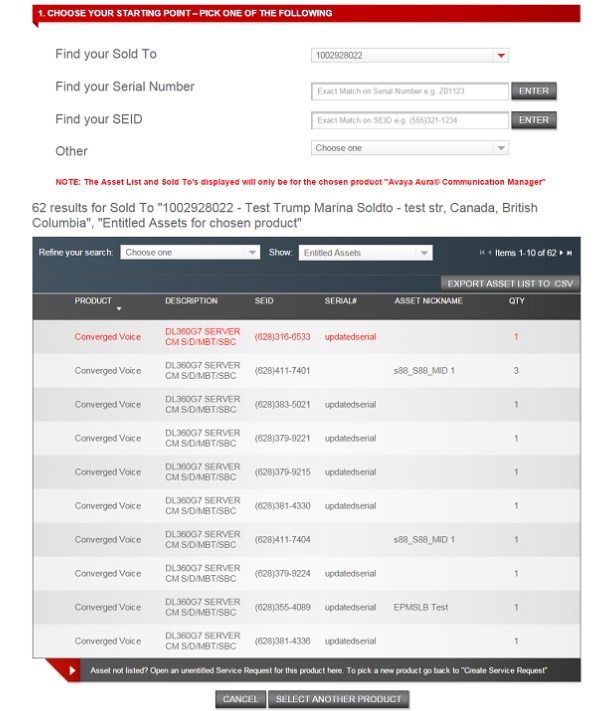 Manage Service Requests


We have also updated Manage Service Requests, where an Avaya Partner or Customer can view any Service Requests that they have access to. Users can choose to do a simple search for Service Request(s) by SR number, Sold To or Vendor Tracking ID. Or see any of the Open Service Requests that they have access to in their Company. Users can also use the Enhanced Advanced Filters to look at a specific group of Service Requests.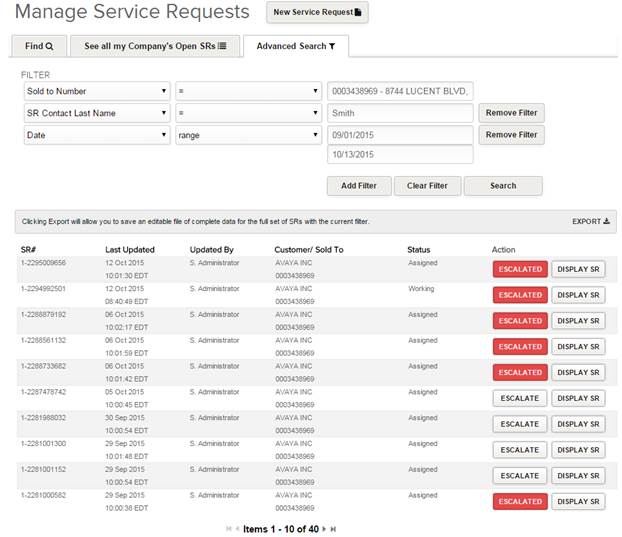 We have also improved the look of the Manage Service Request and SR Detail (Display SR) pages, as well as simplified actions with improved buttons and features, such as exporting a users search list, or printing or e-mailing an individual SR.

If you have any questions or issues, please contact us at the Avaya Support mailbox - support@avaya.com
Avaya -- Proprietary. Use pursuant to the terms of your signed agreement or Avaya policy